The factory floor of Afford's Minchinbury ADE (Australian Disability Enterprise) is a lively place, filled with the noise of forklifts, machines and people hard at work on a range of important jobs. But one sound carries over the rest throughout the working day, and that is the extraordinary baritone voice of Lawrence 'Laurie' Camilleri singing along to the greatest hits playing on the radio.
Laurie is a well-known character within the Afford family, where he is employed at our ADE and shares one of our SIL (Supported Independent Living) homes with his flatmates. He's always ready with a joke and never shy about stepping into the spotlight to sing. When we asked Laurie what song he sings the most, he said "I sing every song the most" before breaking into a perfect rendition of Unchained Melody.
In 2020, Laurie celebrated his 25-year service milestone of working for Afford. When he was presented with his framed certificate of service, Laurie felt some very big feelings. "I was proud," he said. "And believe me or not but I cried. And after I cried, they said why did you cry? And I said, this is my first time winning an award."
Image Caption/Credit: Afford ADE employee, Laurie Camilleri. Photography by Yianni Aspradakis.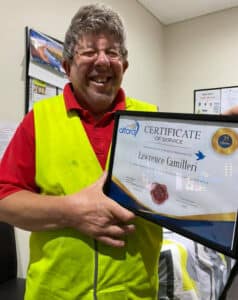 International Day of Older Persons
Earlier this year, Laurie celebrated his 62nd birthday, making him something of a wise elder in our Afford community. He took another turn in the spotlight just this month, featuring as our ambassador for the United Nations International Day of Older Persons in a video story series across Afford's social media channels.
Talking about what he wants from life looking to the future, Laurie said he wants to "go to New Zealand by plane," spend more time with his family, and get married to his lovely lady. We have no doubt he'll also be singing the whole time!
This story is from the October edition of Afford News. Click here to read the full edition.
Was this page helpful?
Is there anything missing on this page? Please let us know
Is there anything missing on this page? Please let us know