Supported Independent Living Vacancies
Afford is one of Australia's most experienced Supported Independent Living providers. We have been supporting people with disability to find happy, safe and accessible homes for more than 70 years.
Afford's Supported Independent Living Vacancies in Sydney
We support people to live as independently as possible in our SIL homes. We can provide support day and night, seven days a week if you need it. We have Afford vehicles so we can take you to appointments, the shops, community activities and social events.
Find your new home today!
We have a range of SIL house vacancies in Sydney. These properties vary in size and have different accessibility features. Our SIL houses are close to public transport, parks, and shops so you can enjoy the local community.
We currently have SIL house vacancies in Glenmore and Penrith.
This spacious house features a formal lounge and dining area, open-plan family room and separate rumpus room. It also has a renovated kitchen with Caesarstone benches, stainless steel appliances and a gas cooktop.
How can I get funding to live in a SIL house?
To live in Supported Independent Living accommodation you need NDIS SIL funding. For more information on NDIS SIL funding visit our Supported Independent Living page.
If you have NDIS SIL funding, we can help you find the right SIL house.
If you do not have NDIS SIL funding, we can support you to get funding.
The NDIS SIL support package does not include rent and boarding costs. You can pay for these costs with your Disability Support Pension, Commonwealth Rent Assistance, or other sources of income you may have.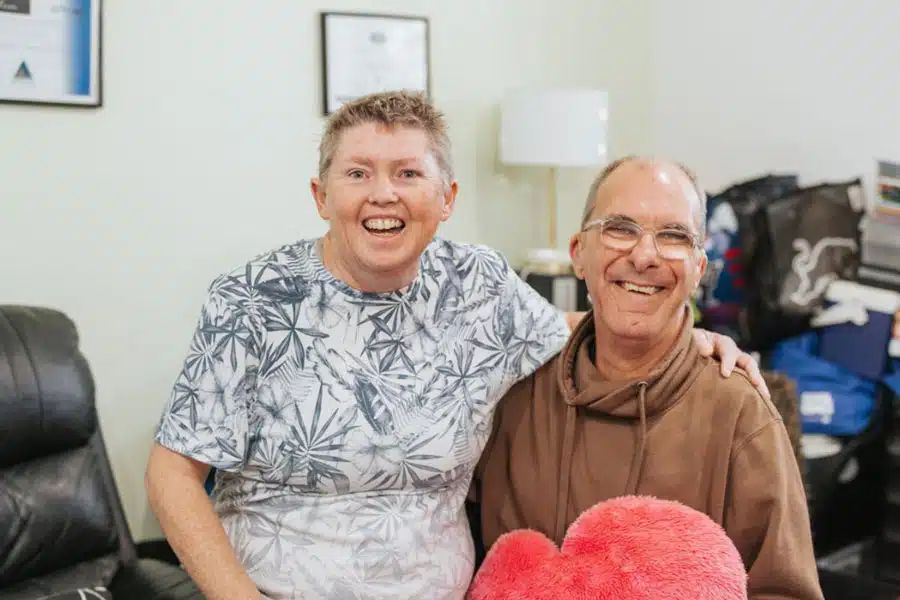 Life in an Afford SIL House
Jean and Stephen live in an Afford SIL house and feel like the luckiest people in the world.
Living in their SIL house, Jean and Stephen have a perfect balance of friendship, independence, hobbies and support.
Find out more information on what life is like for them in their Afford SIL home.
What is Supported Independent Living?
Supported Independent Living (SIL) is a NDIS support package that lets you live with other people with disability, or on your own. It can include support for everyday tasks like cooking, cleaning and personal care, to build your independence. Our SIL houses can also connect you to new activities, social events and hobbies in your home and your local community.
How to apply for SIL NDIS?
Your NDIS planner or Local Area Coordinator can help you work out if Supported Independent Living is right for you. Some of the things you will think about together are:
What supports you need in your home
Your individual circumstances and needs
Your age (SIL is for people aged 18 and over)
Your goals and preferences
Your independence, and skills development goals
If modifications to your home or assistive technology may increase your independence and safety
Information, reports and assessments provided by you, health professionals and other providers
If you need significant person-to-person supports due to your disability support needs
Other home and living options that might suit you
What is value for money.
Who will I live with in a SIL house?
You will live with other Afford clients. We will spend time with you and ask you lots of questions to get to know you to find a home that is right for you with people who have shared interests. We will organise a time for you to visit the house that you are interested in and meet the residents.
Can I live with my partner or friend who also has SIL NDIS funding?
Yes. If they currently live in an Afford SIL house and there is a vacancy, we can see if it is the right match for you. We would be happy to work with you to make this choice happen.
If they are not a current Afford client and we have a suitable property that has vacancies, you can come and have a look at it. If we do not have a current vacancy that matches your needs, we could explore a partnership with a specialist disability accommodation (SDA) provider to create an opportunity that might work. We would be happy to discuss these options with you.
Can I live with my partner or friend who doesn't have SIL NDIS funding?
Yes, but not with SIL funding in your plan and this would be different to our SIL homes. What you need to do is secure individualised living options (ILO) funding in your plan. That way you can be supported, but also live with someone who does not require support in your home. Afford partners with providers who have these types of homes. Please contact us to talk about options in your area.
Can I live on my own in a SIL house?
Currently Afford does not have any single occupancy properties. But we would happily work with a specialist disability accommodation (SDA) provider to try and make it happen once we understand your needs. If you have a house already, we would be happy to provide you with SIL supports in your home.
Was this page helpful?
Is there anything missing on this page? Please let us know
Is there anything missing on this page? Please let us know